2023 Membership Lunch & Learn Meetings
We invite our members to join us at our Monthly Membership Lunch & Learn on the third-Thursday of each month from 11:30am – 1pm. Lunch will be provided courtesy of our event sponsor. We will enjoy networking, a meal and an informative presentation to empower business owners with the tools and resources needed to succeed. Each member may bring up to 2 additional people from their organization/business. Please register each attendee using the link below for the current month's lunch and learn. The Lunch & Learn Meetings are held at the Amy Van Andel Library in Ada -7215 Headley St SE.
*Please note we do not meet in June, July, August, or December*
Our Lunch & Learn Series for September 2023 - May of 2024 is presented by:

September 21st Lunch & Learn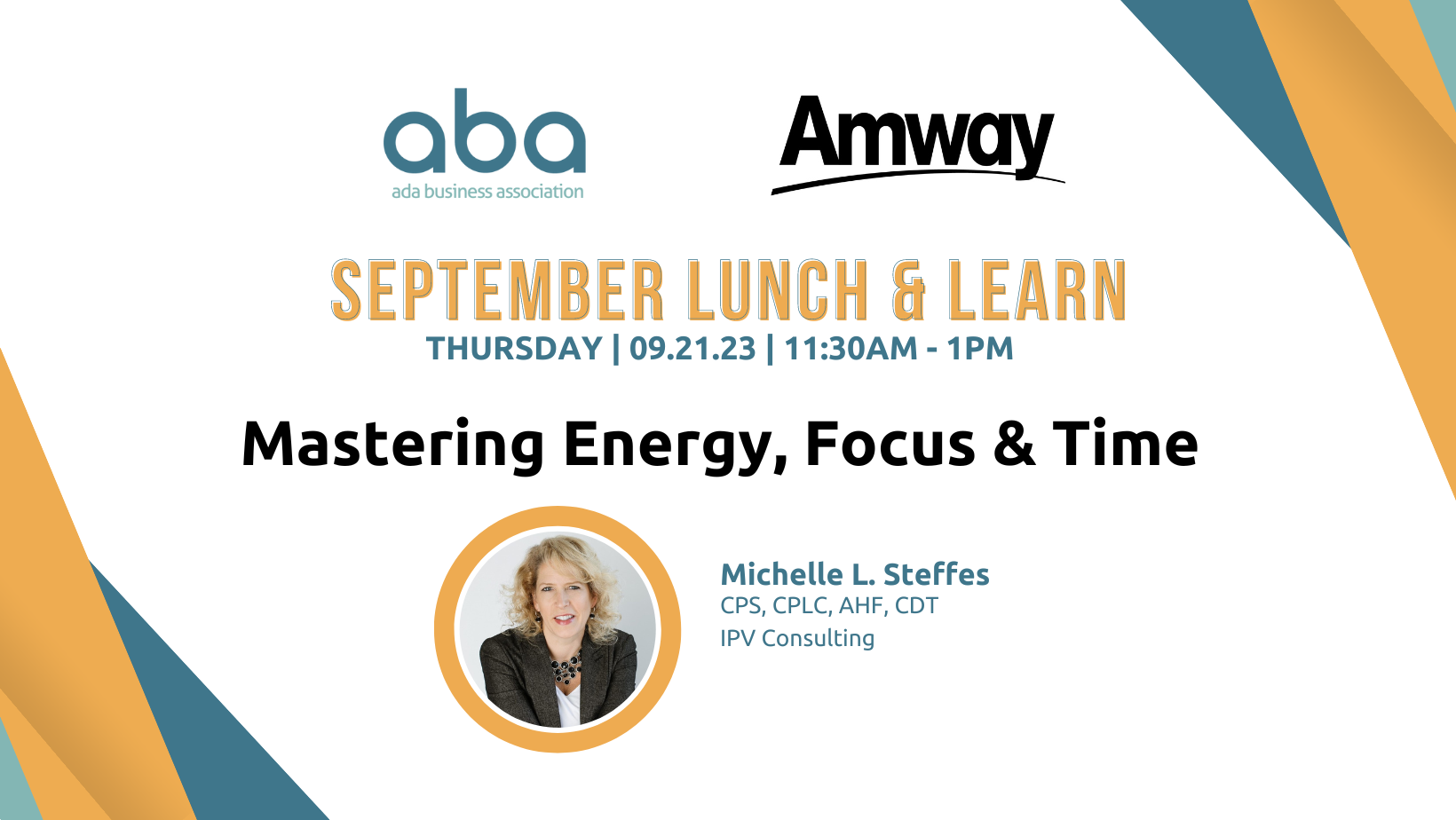 Mastering Energy Focus & Time
Energy, Focus & Time are truly the ultimate keys to success! If we can manage these three well, we can accomplish more in less time and increase our potential exponentially. This topic is chock full of practical ways you can create small changes in your day to day routine and in how you get things done. You will hear "out of the box" applications to increase your energy and focus along with 7 Keys to managing time more effectively. You will be surprised and pleased to learn techniques, routine changes and even foods which can fuel your brain and increase your creativity to accomplish more tasks efficiently and at a higher level of productivity.
A Few Take-Aways:
Common "Energy Vampires" Leading to Limited Focus?
Discover the Secret Hormone to Energy & Clarity of Mind and How To Release it
How to Manipulate Your Physiology and Mental Awareness
10 Practical and Immediately Applicable Time Management Hacks
How to Become Unstoppable By the Changes in Your Routine
Michelle's books - Reframe & Rewire: Greatness Through Daily Routine and The Machine Inside Me - will be available for purchase at the lunch.
Nonprofit spotlight: We will be joined by Emma Roedel, Executive Director of the Forest Hills Public Schools Foundation, for an overview of their mission.
Registration here.
11:30am - 12:00pm Networking & Lunch
12:00pm - Meeting & Program
Michelle's Bio:
Professional Speaker, Corporate Trainer and Certified Coach, Michelle L Steffes has 20 years of experience as a Leader, Director, Team Builder and Business Builder.
Steffes has completed over 10,000 hours of study in neuroscience, physiology and human behavior. She empowers by utilizing cognitive methods to accelerate growth, increase performance and transform self-defeating mindsets.
Her studies and her passion to see people win have inspired her to author the book "Reframe and Rewire: Greatness Through Daily Routine."
Michelle is the Founder and CEO of IPV Consulting, Founder of IPV Group Coaching and Creator of the 5 in 5 Performance Coaching Program. Featured in multiple magazine publications, radio programs and national media networks, her clientele includes a plethora of corporations, executives and individuals desiring effective change in business and life.
October 19th Lunch & Learn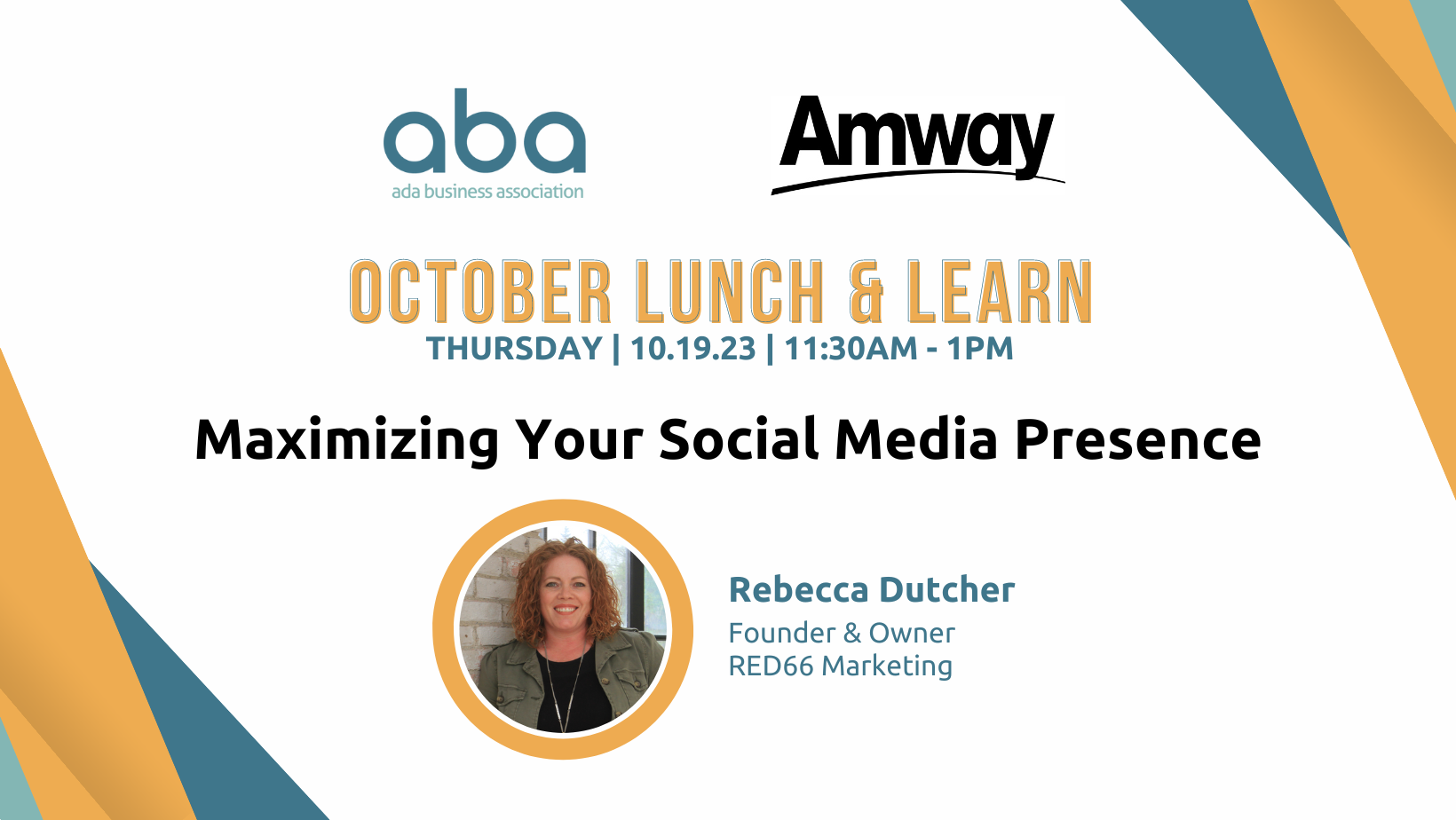 Maximizing Your Social Media Presence
Whether you're using social media to grow your business or your personal brand, it's an ever-changing landscape. From organic to paid social, what channels to be in, video content, images and more we'll review several best practices, answer questions and build a social media strategy that works.
Nonprofit spotlight: We will be joined by Stephanie Trexler, founder of Once Upon a Room, for an overview of their mission.
Registration will open October 1st.
11:30am - 12:00pm Networking & Lunch
12:00pm - Meeting & Program
Rebecca's Bio:
The owner of RED66 Marketing. Yes, the RED comes from her bold hair. And, if you didn't know, the 66 was her jersey number when she was the first girl to play football at 8 years old. Rebecca has always had a passion for marketing and building strong relationships with clients – by offering honest input and feedback, and has a firm belief in doing what you say you're going to do. She's spent 15+ years working for marketing agencies with specialties in SEO/SEM and web development, branding, creative design, and integrated communications – taking all she's learned to bring the best marketing approach to our clients. She is a two-time past president of the American Marketing Association of West Michigan Chapter and vice chair of the board of directors for GROW.
Upcoming Lunch & Learn Dates for 2023:
November 16, 2023 - Holiday Gathering - Gratitude
Spring 2024 Lunch & Learn Dates:
January 18, 2024 
February 15, 2024
March 21, 2024
April 18, 2024
May 16, 2024
Lunch & Learn Presentations