2023 Membership Lunch & Learn Meetings
We invite our members to join us at our Monthly Membership Lunch & Learn on the third-Thursday of each month from 11:30am – 1pm. Lunch will be provided courtesy of our event sponsor. We will enjoy networking, a meal and an informative presentation to empower business owners with the tools and resources needed to succeed. Each member may bring up to 2 additional people from their organization/business. Please register each attendee using the link below for the current month's lunch and learn. The Lunch & Learn Meetings are held at the Amy Van Andel Library in Ada -7215 Headley St SE.
*Please note we do not meet in June, July, August, or December*
Our Lunch & Learn Series for September 2022 - May of 2023 is presented by:

April 20, 2023 Lunch & Learn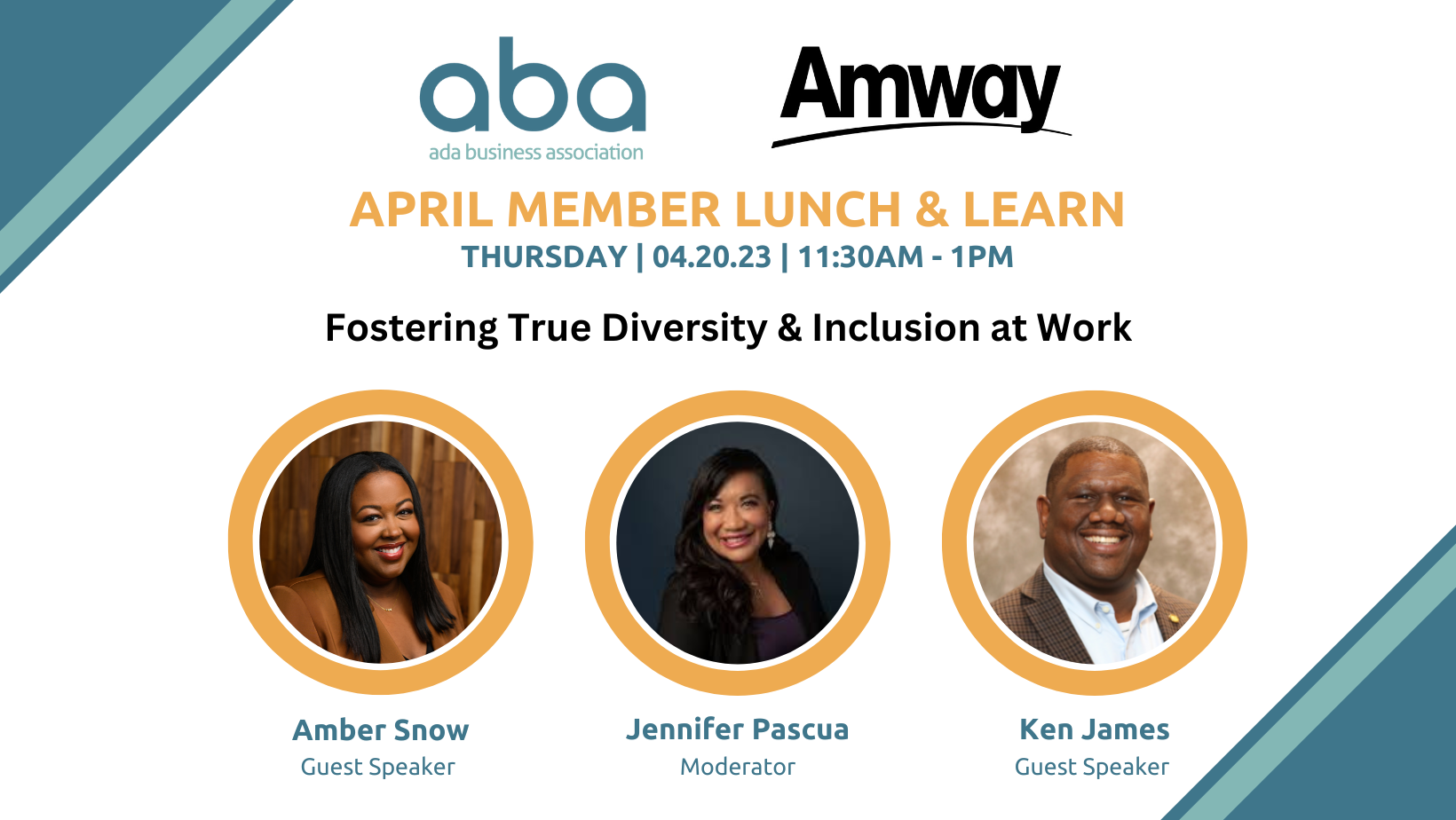 Fostering True Diversity & Inclusion at Work.
Join us for an engaging panel discussion featuring Amber Snow, Director of Diversity, Equity & Inclusion at Amway Corporation and Ken James, Chief Diversity Officer for Muskegon Community College, and moderated by Jennifer Pascua.
Registration will open April 1st.
11:30am - 12:00pm Networking & Lunch
12:00pm - Program
Amber's Bio:
Amber Snow is a seasoned Human Resources and strategy leader with a passion for empowering others to succeed. Amber serves as the Director of Diversity, Equity & Inclusion and Talent Acquisition at Amway where she is responsible for promoting a culture of diversity, inclusivity, equity and belonging across all levels of the organization and in each of Amway's global markets. She is an advocate for all employees to become the best they can be and strives to create an environment that allows employees to build upon their capabilities.
Ken's Bio:
With nearly three decades of experience spanning a multitude of industries including non-profit, health care, and higher education, Ken is driven by his passion to initiate cross-cultural dialogue and advance diversity, equity, and inclusion. As Chief Diversity Officer for Muskegon Community College he combines his knowledge and lived experiences to deliver creative, intentional programs to students, faculty/staff, community members and businesses.
Ken is an alumnus of Kentucky State University and Grand Valley State University, from which he holds a master's in public administration. Most recently, he earned Executive Certification in Diversity Coaching through the CoachDiversity Institute in partnership with Howard University School of Business and is recognized as an Associate Diversity Coach (ADC).
Upcoming Lunch & Learn Dates for 2023:
May 18, 2023 - Sustainability with Michelle Meulendyk-Yost, Corporate Citizenship Lead at Amway / Annual ABA Meeting with Elections
September 21, 2023 - Mastering Energy, Focus & Time with Michelle Steffes, IPV Consulting
October 19, 2023 - Social Media Tips & Tricks
November 16, 2023 - Holiday Gathering